Literacy Texas is the statewide literacy coalition, connecting and equipping literacy programs through resources, training, networking and advocacy. Our vision is that every literacy organization in Texas will have the resources it needs to help as many people as possible learn basic literacy skills in order to participate fully in society.
A Message From Our Friends
Resources, Training, Networking & More!
Our Annual Conference is in August, but we offer regional and virtual symposiums and events throughout the year.
Quickly find content curated with your particular needs in mind.
Resources for our PROGRAM

PARTICIPANTS

Literacy Texas provides its Program Participant
members with diverse resources such as:

Access to Adult Literacy training
Networking with other Literacy Texas members
Professional Development pathways
Adult Literacy news & resources
Help and support with literacy issues
Login access to unique literacy resources

Learn More

Resources for our LITERACY

ORGANIZATIONS

Literacy Texas provides its Literacy Organizations with diverse resources such as:

Free training for volunteers
Google map location information for students
Nonprofit leadership training
Free sessions on fundraising
Free sessions on grant writing
Access to videos of symposium & conference sessions

Learn More

Resources for our STRATEGIC

SUPPORTERS

Literacy Texas provides its Strategic Supporters with diverse opportunities such as:

Sharing of Adult & Family Literacy teaching resources
Sponsorship of literacy experts who present at events
Exposure to Adult Literacy providers across Texas
Support for Literacy Texas' advocacy initiatives
Partner discounts for teachers & organizations
Logo and link on the Literacy Texas website

Learn More
Literacy Issues Impacting the Texas Economy
Texas has 6.5 million residents who speak a language other than English at home. Texas has a growing and diverse population.
In Texas there are 3.8 million adults without a high school diploma.

A rise of 1 percent in literacy scores leads to a 2.5 percent rise in Texas labor productivity.
Literacy programs throughout Texas are only serving 3.6 percent of the 3.8 million in need.
Dropouts cost Texas $9.6 billion annually (United Way of Texas). Improving this number will greatly enhance the economic welfare of Texas.
Texas is 47th among states ranked by percent of literate citizens in 2017.
What Literacy Texas is Doing About It
We provide
resources
and training to CBOs for encouraging parents to become literate to support their child's learning.

We
support
CBO staff and volunteers who offer alternative high school degree programs.
We support workforce solution CBO programs and advocates with public policy leaders to enhance the positive
impact
of a more literate citizenry.
We are a champion of finding resources to keep
students
in the formal education system.
We work with other literacy organizations, foundations and business leaders to stress the need for public policy change to
improve
these numbers.

We hold 6 symposiums and an annual conference
free
of charge to CBO staff and volunteers.
Our Strategic Supporters Are The Best!
Making an impact on literacy in Texas isn't something we can do by ourselves.
See the organizations behind the scenes who make all that we do possible.
Good Things Are Happening at Literacy Texas
Membership in Literacy Texas Has Many Benefits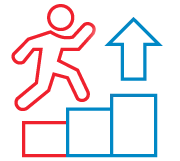 Grow your skills, attend programs and webinars, learn from keynote speakers, improve professionally.
Literacy Training & Resources
Get access to literacy training, the LT resource library, news updates and even more training materials.
Engage and network with other program participants, organizations, LT supporters and volunteers.
Go to symposiums throughout Texas, learn about new issues & advocacy and attend LT's 3-day conference.
Explore the World of Literacy News
The Texas Center for the Book has announced that the South Texas Literacy Coalition is the recipient of the sixth annual Texas Center for the Book Literacy Award. This $2,000
Read More »